Our History
We first opened our doors to the Wimborne public in 1920.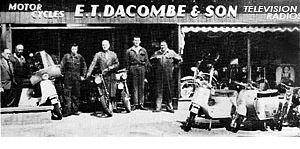 In 2011 we moved to our West Street store, joined Euronics and expanded into small and major domestic appliances.
In early 2014 we agreed to take over another Euronics dealer in the town. We took on all of Brian's staff and much of the year was taken up with the planning of this new business venture.
On the 28th January 2017 We opened our brand new store on the outskirts of Wimborne town centre. After nearly six months of planning and redevelopment, our new 5000 square foot Destination store was ready to open.

We were delighted local celebrity Harry Redknapp could cut the ribbon on the opening night of our exciting new store.
In Nov 2019 We opened our new Home Cinema and Smart Home Apartment to showcase the very best in an Audio Visual Experience.
In August 2021 We purchased a new 5000 square foot warehouse on the outskirts of Wimborne. The relocation of all of our larger appliances to a new site has given us much more space in our showroom and allowed us to expand our product ranges.
In November 2022 we launched our new Dacombes website.
During 2023/2024 we will be celebrating our Centenary.